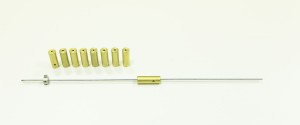 Pro Ballast for Supra/Maxa
It allows you to adjust the weight of the model is very smooth. The main advantage of this ballast is that the smaller weight you want to put, the smaller will be the effect of ballast on the longitudinal controllability of model.
The moment of inertia of the PRO ballast would be eight times less!
The kit includes a set of brass ballast (Ø16, l = 50 - 9pc) and key for the screws.
We have already measured for you all the necessary dimensions for the most popular models  CG of Maxa and Supra.
Various weight of ballast settings data for Supra (CG=104mm)
| | | | |
| --- | --- | --- | --- |
|  Number of parts | Weight (oz/gramm) | L (inch / mm) | Additional wing loading (oz/ in²;g/dm2) |
| 1 part | 4 oz /111 g | 8''/210mm | 0.004/1,6 |
| 2 parts | 7 oz/191 g | 7''/164mm | 0.007/2,7 |
| 3 parts | 10 oz /271 g | 5''/132mm | 0.009/3,9 |
| 4 parts | 12 oz /351 g | 4''/104mm | 0.011/5,1 |
| 5 parts | 15 oz /432 g | 3''/77mm | 0.014/6,2 |
| 6 parts | 18 oz /511 g | 2''/51mm | 0.017/7,4 |
| 7 parts | 21 oz /593 g | 1''/25mm | 0.019/8,5 |
| 8 parts | 24 oz /673 g | 0''/0mm | 0.22/9,7 |
| 9 parts | 27 oz /753 g | - | - |
Various weight of ballast settings data for Maxa (CG=115mm)
| | | | | |
| --- | --- | --- | --- | --- |
|  Number of parts | Weight (gramm/oz) | L ( inch/mm) | Маха 3.5m additional wing loading (oz/ in²; g/dm2) |  Маха 4m additional wing loading  (oz/ in²;g/dm2) |
| 1 part | 4 oz /111 g | 13''/321mm | 0.003/1.5 | 0.003/1.3 |
| 2 parts | 7 oz/191 g | 10''/251mm | 0.006/2.6 | 0.005/2.3 |
| 3 parts | 10 oz /271 g | 8''/211mm | 0.008/3.7 | 0.007/3.2 |
| 4 parts | 12 oz /351 g | 7''/179mm | 0.010/4.7 | 0.009/4.2 |
| 5 parts | 15 oz /432 g | 6''/149mm | 0.013/5.8 | 0.012/5.2 |
| 6 parts | 18 oz /511 g | 5''/122mm | 0.015/6.9 | 0.014/6.2 |
| 7 parts | 21 oz /593 g | 4''/95mm | 0.018/8 | 0.016/7.2 |
| 8 parts | 24 oz /673 g | 3''/69mm | 0.020/9.1 | 0.019/8.2 |
| 9 parts | 27 oz /753 g | 2''/43mm     | 0.023/10.1 | 0.021/9.2 |