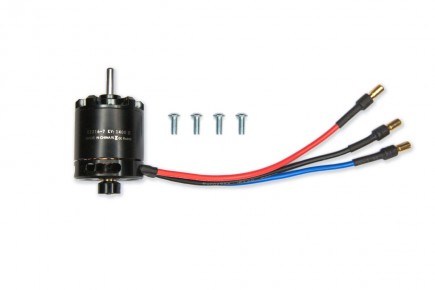 We recommend this motor to all modifications of the PLUS F5J in set with:
- PLUS Motor Controller 45A/7A
- 4S1P LiPo battery 650 mAh, 70C
Attention: While using propeller VM Prop 12x4.5 with 1400 KV motor we recommend to limit current with transmitter to 35A!
Attention: The motor shaft diameter is 3.17mm! (Please specify it in your order!)
In specified set on tests such climb rate was reached on Plus Windy with 330 g ballast:
Height 48,64 m is reached for the first 5,35 sec
Height 289 m is reached for 30 sec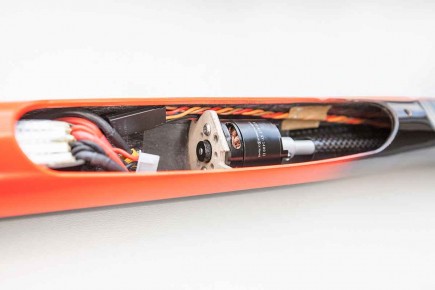 Installed into fuselage PLUS motor plate has openings especially for this motor.
All you need its install motor by the screws from set and to fix motor shaft by the screw.
Motor Data
X2216 KV1400

Stator Diameter

22 mm

Stator Thickness

16 mm

No. of Stator Arms

12

No. of Rotor Poles

14

Motor KV

1400

No-Load Current (A/10V)

1.3 A

Motor Resistance

55mΩ

Max Continuous Current

33A/30S

Max Continuous Power

540W

Weight

72g

Rotor Diameter

27.7 mm

Shaft Diameter

3.17 mm

Body Length

34 mm

Overall Shaft Length

36.5 mm

Max LiPo Cell

2-4 S

ESC

40 A
Related products: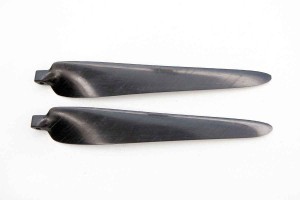 VM Prop 12/4,5 pushing
VM Prop 12x4,5 Pushing was specifically designed for Plus by Philip Kolb and Murat Bronz. The unique aerodynamics combines 9 airfoils in this small thin blade.
To provide sufficient rigidity we used a multi-layer Carboline preform by ultra-high module carbon and ultra-high module carbon rowing. We use intermedia module carbon around blade shaft for increase strength.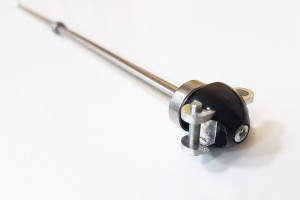 PLUS motor Shaft 3.17 mm (for X 2216)
Motor shaft has hole 3.17 mm for shaft of the motor. When you order PLUS motor Shaft for Scorpion S11-2215 together with PLUS we will install motor shaft free of charge.