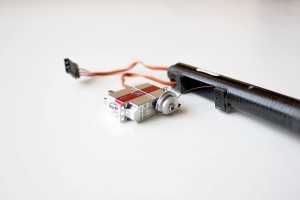 Spring-loaded horn set for KST X08
It is specialy for pull/spring tail control system.
The horn has spring inside with loading about 300g/cm.This spring compensates for part of the load, coming from the elevator spring. Therefore, we can make the elevator spring double stiffer.
The horn spring load is almost constant, when servo move on +-45 degrees. This spring loading is almost same, like spring, which we use for Snipe2.
Horn arm is 5.8mm.
Weight is about 1 g for each horn.
We have left and right movement springs. what is why set consist of 2 horns (for both side).

We recomend use this system for Plus and use two standard springs for each elevator.